I always try to do a food experience anywhere I go, whether it's just visiting a local food market, attending a cooking class or finding the best hidden restaurants. So I set out to do the same for my short trip to Helsinki in December 2018: discover what Finnish food is about. I wanted to have a local teach me about Finnish food, so I booked an Airbnb experience (unfortunately, it's no longer available by the time I'm writing this post).
First stop: Hakaniemi Market Hall
The initial meeting point was in the Kallio district, across the street from Hakaniemi Market Hall. Kallio and Hakaniemi districts are historically more industrial districts but they are now the up-and-coming neighbourhoods where locals go for the hip restaurants and bars.
After a short introduction, our first stop was an outdoor cafeteria right in the square in front of the market hall: Kahvisiskot. We entered the tent and started with some traditional Finnish salt-cured salmon on rye bread with some cream cheese and dill. Then, because it's Christmas season, we got treated to some hot riispuuro: rice porridge cooked in whole milk. It's served with some optional sugar and cinnamon powder that you can add to taste. The Finns often eat this for breakfast on Christmas Day.
After the filling Finnish breakfast, we made our way inside the market hall to visit the different stalls for more food tasting. First up was the cheese stall for some leipäjuusto, also known as bread cheese or Finnish squeaky cheese. It's often served as a side dish for coffee or in this case at the food stall, we had it with cloudberry jam.
Arctic berries are common in Finnish cuisine since they are commonly found in the country and are a good source of vitamin C and antioxidants: raspberries, lingonberries, bilberries (European blueberries), sea buckthorn, wild strawberries, etc. Because it was the winter, fresh berries weren't available, but it was easy to find jams or juice made from them.
After the cheese and the jam, we got introduced to the famous savoury Finnish pastry: the Karelian pie, a thin rye crust, filled with barley and flour, potato and buckwheat, or rice and millet, folded around the edge and baked.
Christmas time in the market also meant that I got to see some common holiday dishes. There was an entire hallway of stalls selling smoked fish and caviar, mostly salmon, herring and vendace. Most of the side dishes that often go with these meals were ready mashed root vegetables and sold in containers: potato, rutabaga, sweet potato, carrot, etc.
Sweet Tooth & Baked Goods
Leaving Hakaniemi market hall and crossing the street, we entered a local bakery, Kanniston Leipomo. This bakery has been around for a few decades and has grown into a local chain in Helsinki, operating with multiple locations throughout the city. This is a good place to grab some pulla (Finnish cardamon bread), rommiviineri (rum pastries) or korvapuustit (cinnamon roll).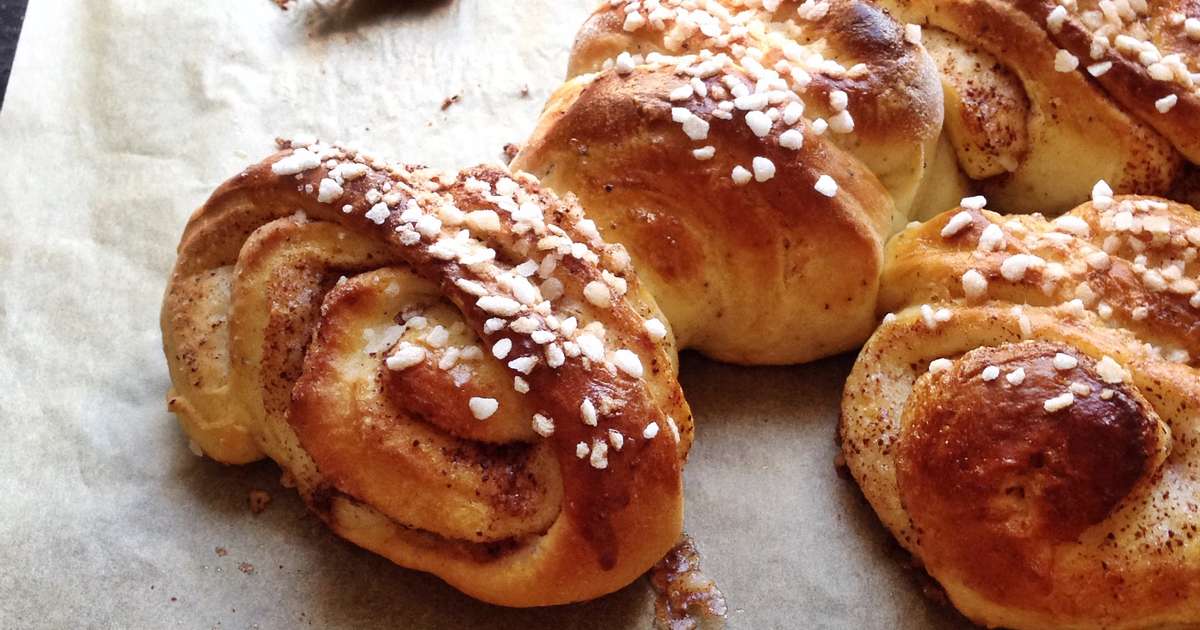 Coffee Break & Library
Finns are the world's biggest coffee drinkers, and they are proud of it. Every single Finn I met made sure to mention how much coffee is consumed in the country. People drink coffee throughout the day, regardless of time. And on a food tour throughout Helsinki, stopping at a local coffee shop is mandatory.
Our guide took us to Good Life Coffee, still in Kallio district. The coffee shop is cozy and has a nice vibe to it. I'm not a big coffee drinker and wouldn't be able to tell the difference between good and great coffee but it looks like this shop is increasingly popular for coffee enthusiasts.
On our way to the next destination, we took a spontaneous detour and stopped by the Kallio Library. This isn't really a place to grab some food but because of our conversations at the coffee shop on the education system in Finland, it seemed like a good place to stop by. That and the free glögi (Finnish mulled wine) that was available for self-serve 😀
Last Stop: Local Brewery
Leaving the library, we headed to a different district in the city, Sörnäinen, an industrial district with warehouses and factories. It is, however, slowly changing with many of the warehouses refurnished to become music venues and local breweries. And that was our last stop for the tour: Stadin Panimo.
This local brewery was hidden among old warehouses and definitely out of the way for tourists, so I'm glad that our guide brought us there. They have a good variety of foreign beers, but the highlight was the brewery set-up behind the glass and their in-house beers selection.
My Advice & Other Tours
Helsinki has plenty of market halls and each one of them has a different vibe. If you have the time, make sure to visit more than just one place.
While Hakaniemi Market Hall's bustling reflected the typical last-minute shopping of the Christmas season, the Old Market Hall is more tourist friendly. There, you can do both souvenir shopping and food tasting in one place. For souvenirs, you can find reindeer hides, wine, coffee, Finnish tea, chocolate, etc. For snacks, you'll find dry reindeer sausages and jerky, nuts, fruits and jams, Finnish pastries, cheese, etc. You can even sit down for a meal and have some hot salmon soup to warm up.
During Christmas, Helsinki will also have pop-up markets in almost every public square. The two I visited were the one in Senate Square, in front of Helsinki Cathedral and the Helsinki International Christmas Market in Plaza Narinkka, next to Kamppi Chapel.
If you want to DIY your own food tour, the Helsinki Tourism Office has some maps available online that you can use for inspirations. You can also find those at their locations. And for another guided food tour, you can also reach out to Heather at Fork in Hand Tour. Unfortunately, she was not in Helsinki when I visited, but she gave me some great advice of places to visit.
I hope this will help you enjoy Helsinki and its food!